HELM TECHNOLOGY & VALUE 
The HELM True Wireless 5 in-ear headphones build on the success of the critically acclaimed sound, bass, comfort and sound isolation delivered by the first generation of HELM True Wireless headphones. Loaded with updated technology and features including Bluetooth 5, the Qualcomm® aptX™ Bluetooth codec featuring decreased latency, auto-pairing and auto-charging, and offers 6 to 8 hours of play time that can be extended further to 30 hours with its portable charging case.
Class-leading Bluetooth connectivity provides an impressive range of 60 feet, dual stereo mics deliver clear full stereo music and phone calls. Easy access smart buttons allow you to completely control your music, volume, easily control phone calls, and access your favorite voice assistant. The unique look of the diamond pattern shell is durable and scratch resistant, its anti-slip silicone padding provides a secure fit for any activity and voice notifications keep you in control.
You must try these new fully wireless Bluetooth in ear headphones. The fit is secure and comfortable, the build is stylishly rugged, and the sound is wowzer impressive full spectrum.  The wireless earpieces are quite striking, with a glossy diamond cut pattern on the front face. Fit and finish are excellent, and inspire confidence for their longevity. They are also pretty comfortable with a secure fit enhanced by the rubberized rear surface that makes contact with your inner ear, and the soft non-removable fin built into the top of the rear plate. The shape of the rear plate also fit the contour of my inner ear very well. The only issue I had was with the overall size of the earpieces. They are a little on the large size, so at first, it felt like there was a little excess pressure on the inside of my ear, but after a few minutes I got used to them and I didn't notice the pressure anymore.
Design & Comfort
Aesthetically, HELM Audio's earbuds are only available in black. But the black has a pleasant checkered texture to the exterior that gives it a unique professional style. It's also generally inoffensive and simple looking, and it matches the exterior of their charging case.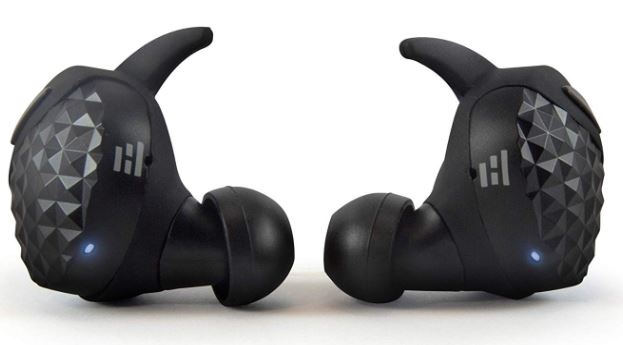 These earbuds make use of smart controls that allow you to manage your calls, volume, and tracks using voice navigation. So instead of having you tap a button on your ear, those controls are navigated through voice commands. Using voice commands is something that is right for everyone. But for people who can appreciate it, voice commands can also be incredibly convenient.
Worn for comfort
These earbuds include three sizes of tips, small medium and large. Getting the right size allows you to get better noise isolation, so it's not only about comfort. However, even though there are small tips included, these earbuds aren't perfect for people with smaller ears due to the larger nature of each earbud attached to the ear-tips.
Sound
The sound quality is probably the best part of the HELM True Wireless package. The overall sound signature is tilted to the bass, with a definite accent in that area, but it's quality bass, being deep and articulate, not boomy. It drives the rhythm with authority. The Treble is easygoing yet detailed enough to keep things interesting up top, and the mids while recessed, are rich and natural, without a lot of honkiness or boxiness.
Battery Lifespan & Audio Quality
How do these earbuds actually sound? For the most part, fairly good. Unlike a number of similar drivers, these support the full frequency range from 20Hz to 20kHz. They're also capable of becoming quite loud and have a surprisingly thumping range of bass tones. Though these aren't high impedance earbuds, and they're using dynamic audio drivers instead of any special audio driver technologies. Making use of this iteration of Bluetooth, you can expect your higher resolution audio files to be supported flawlessly as well.
You can check the charge of the case by pressing the button on the inside of the case which illuminates between one and four lights on the front of the case. Four lights is a full charge, and once you get down to zero lights then the case needs to be recharged. It takes 1.5 hours to charge the case back up, and it can recharge the earphones up to 5 times before it needs to be charged again. The earpieces last for about 3 hours of playback or 100 hours standby, after a two-hour charge in the case.
Pairing the earphones with my phone was pretty easy, but not as easy as some other models I have used in the past. Some True Wireless earphones have auto pairing. With auto-pairing, the buds automatically turn on when you open the case, then once you remove the buds from the case, then they automatically pair to the phone and each other after the initial pairing.
Other Suggestions
There's a pair of dual microphones to help power the calling features. The HELM Audio True Headphones do not make excellent use of the fact these earbuds have two separate microphones. There's a lot of potential for noise cancelling technologies to be applied in such circumstances, but HELM decided to do without such things.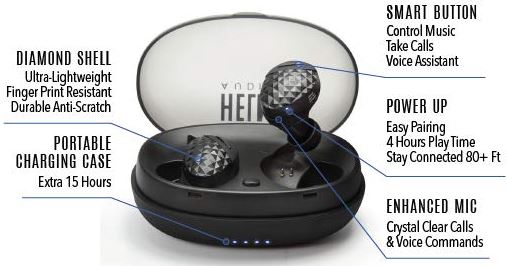 For connectivity, you'll find HELM is using their own antenna tech to allow you to get your signal out towards 80 feet. And even though they're using their own antenna technologies, you can still find compatibility with any Bluetooth-enabled device. You'll also find the same easy pairing features that are present in the E50.
New York Jewish Travel Guide